Aiki, Embassy of Finland in Tokyo
Aiki, is Lahdelma & Mahlamäki's winning proposal for the Embassy Quarter of Finland in Tokyo. The scheme, designed in 2009, includes a comprehensive design of the main embassy and an overview of the adjacent residential units. The embassy in all its functions and services stands as the physical link between Finland and Japan – connecting two nations either side of the world. Aiki becomes the physical representation of this. It embodies the intersection of the two cultures, which despite a huge distance between then, have developed with surprising similarities and parallels.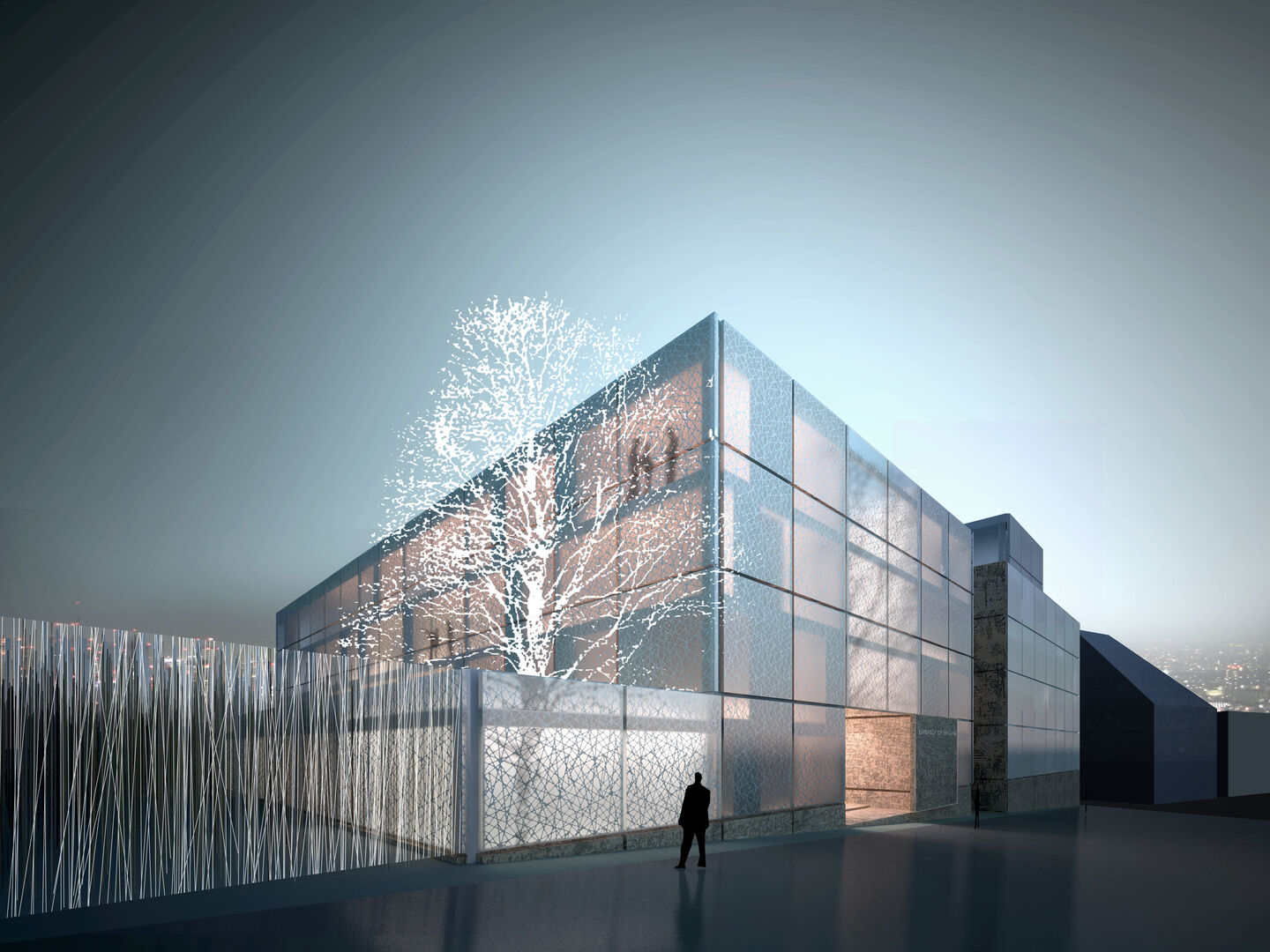 Aiki has a duality - masked from the outside, but bright and open within.
Internal views and open courtyard or gardens – within this enclosure – create an internal landscape. Voids left out of the grid system create four floor atria, entire voids open to the sky and smaller terraces scattered throughout. Fresh air flows in to the more public areas of the building, whilst dappled light gets thrown around, creating endless shape-shifting shadows as the day goes on. A level of transparency and openness is brought into the building which is so rare in such buildings.
Project Details
Location:

Tokyo, Japan

Year:

2009

Programme:

Finnish embassy facilities, including ambassador's residence and residential quarter
01

Quick Facts

Aiki was the winning design for the new Finnish embassy in Tokyo in 2009
The building serves as the physical and cultural link between the two countries
Silk-screen printed glass envelopes the building, balancing privacy and the flow of natural light
Within the envelope open courtyards and terraces create a interior landscape
Privacy and security determine the vertical spatial arrangement
The project embodies the cultural expression of the two cultures

02

Full Profile

The embassy in all its functions and services stands as the physical link between Finland and Japan – connecting two nations either side of the world. Aiki becomes the physical representation of this. It embodies the intersection of the two cultures, which despite a huge distance between then, have developed with surprising similarities and parallels.

Aiki has a duality. Externally it becomes shrouded from public view. Silk-screen printed glass wraps around the exterior, obscuring the internal goings-on modestly, yet elegantly. The envelope provides the privacy and security necessary for an embassy to function. Yet, at the same time, the façade allows in enough natural light to create interiors that don't feel interior.

Internal views and open courtyard or gardens – within this enclosure – create an internal landscape. Voids left out of the grid system create four floor atria, entire voids open to the sky and smaller terraces scattered throughout. Fresh air flows in to the more public areas of the building, whilst dappled light gets thrown around, creating endless shape-shifting shadows as the day goes on. A level of transparency and openness is brought into the building which is so rare in such buildings.

Privacy and security determine the vertical spatial arrangement and programme. The ambassador's private residence, for personal living and official entertainment use, is kept at the top of the building. On this top level the floor plan wraps around open courtyards; private ones for the ambassador, and the ones that reach right into the heart of the building.

Aside from the architecture, Aiki is also given spaces to express Finnish culture. Space throughout the building is specifically allocated to Finnish art, and the entertainment spaces are naturally accompanied by a sauna.

03

Credits

Lahdelma & Mahlamäki architects: Ilmari Lahdelma and Rainer Mahlamäki with Katri Rönkä, Sampsa Palva and Jukka Savolainen

Nihon Sekkei: Motoko Kosaka, Kaori Kondo