Cygnaeus Park Housing is Lahdelma & Mahlamäki's winning proposal for a competition in Jyväskyla, the city of Alvar Aalto and a city of modern architecture. The local planning authorities ensure that the city continues keep this character. The urban structure is based on the grid system and the urban landscape represents various periods of 1900s and 2000s architecture.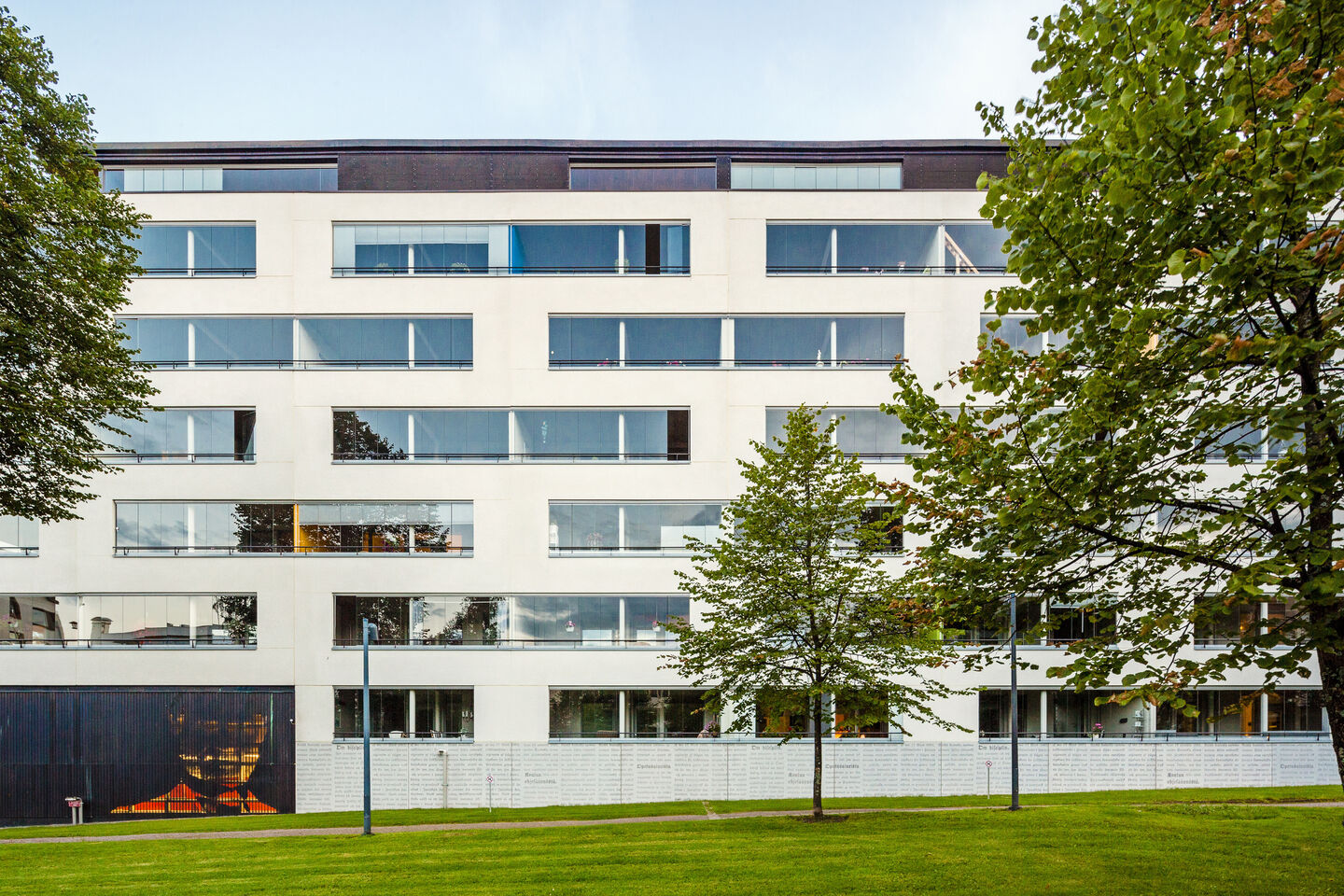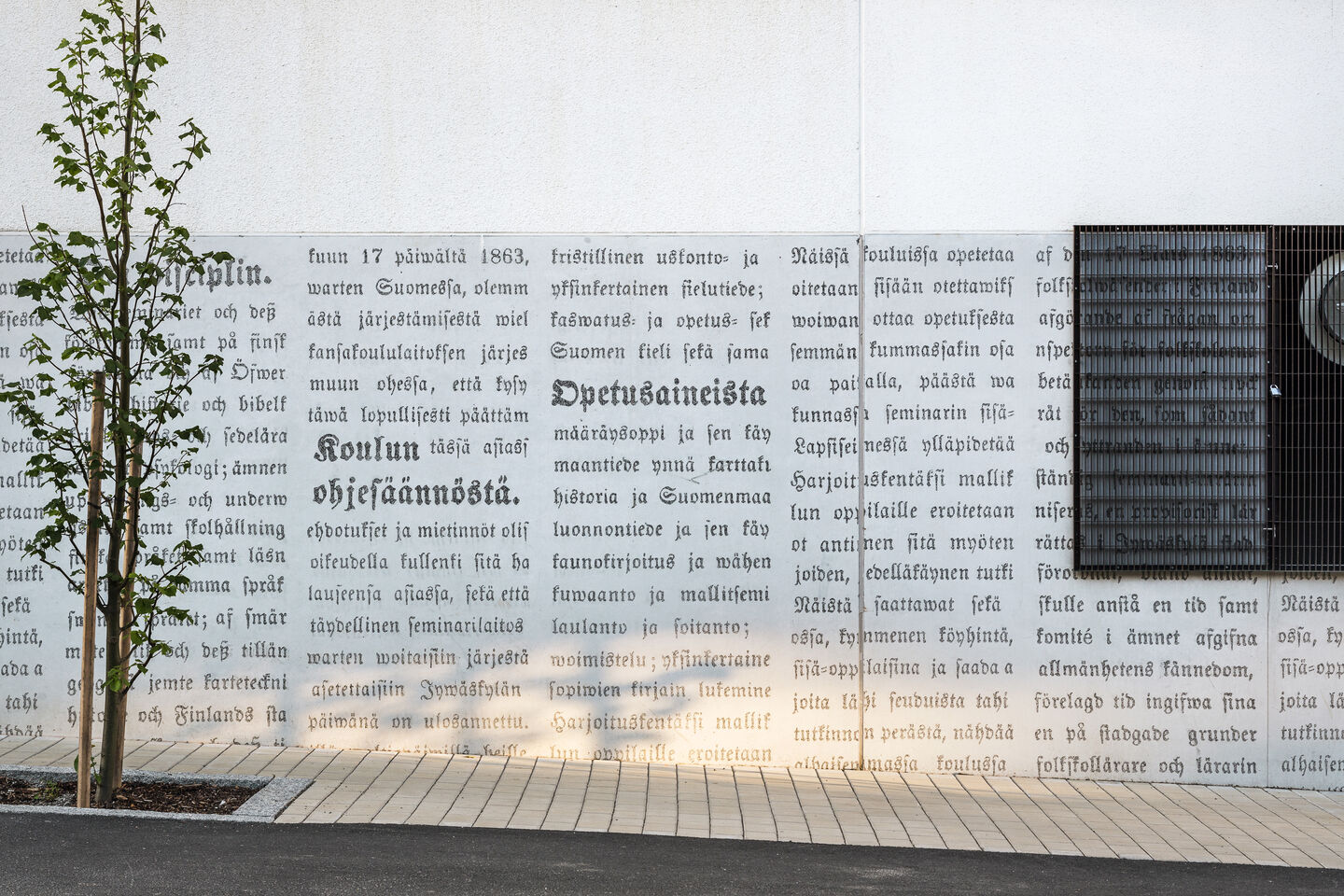 Over 12,000m2 of high-quality housing in Jyväskylä, the home of Alvar Aalto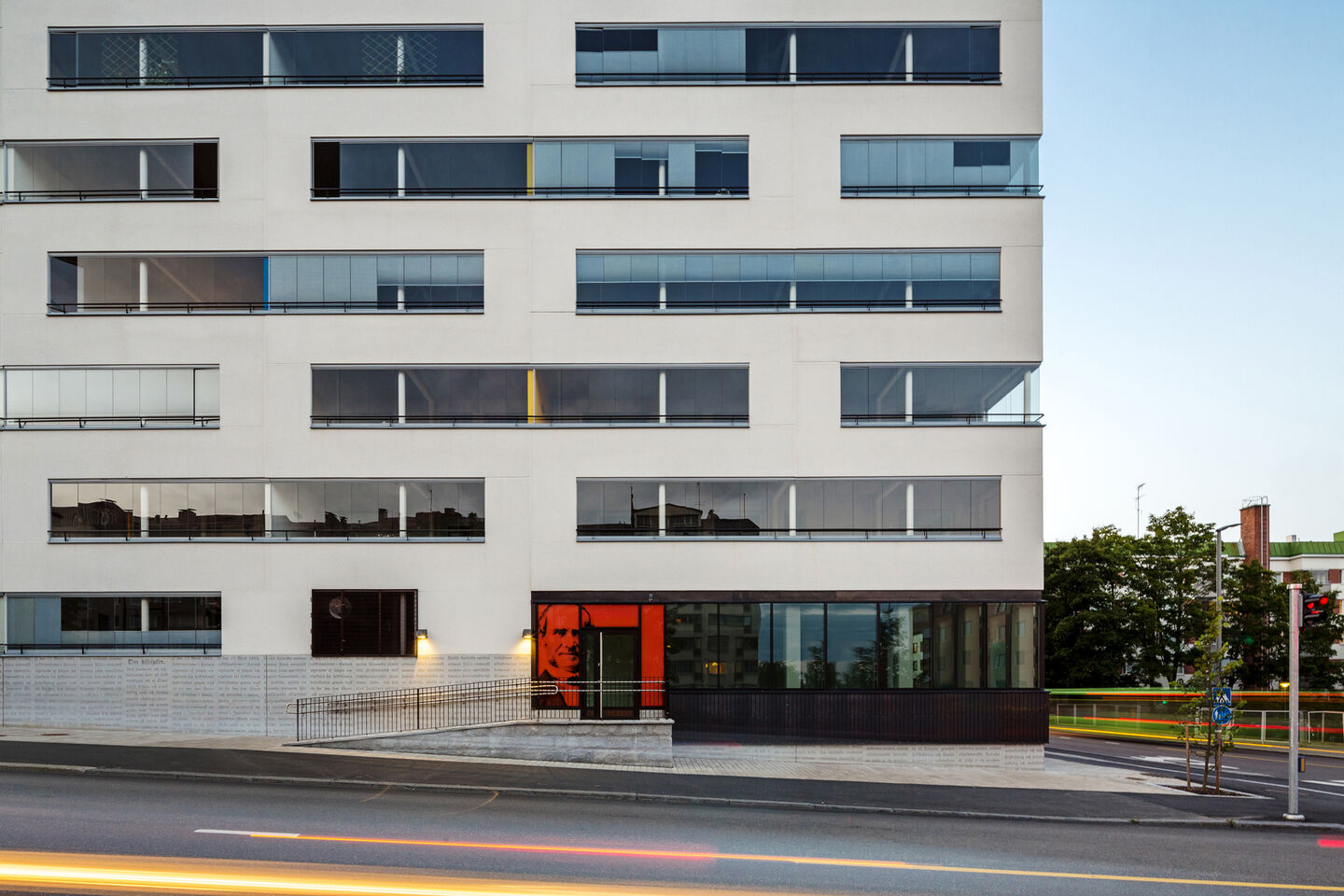 Cygnaeus Park Housing is made up of four separate apartment blocks that can accommodate a range of different residents within the city centre of Jyväskylä. One such group for example, the 'third-age' customers, benefit from high-quality non-subsidised rental housing.
Throughout the project systematic floor plans give residents the freedom to personalise their homes, whilst large, shielded balconies offer a protected but blissful interstitial space - extending the living space.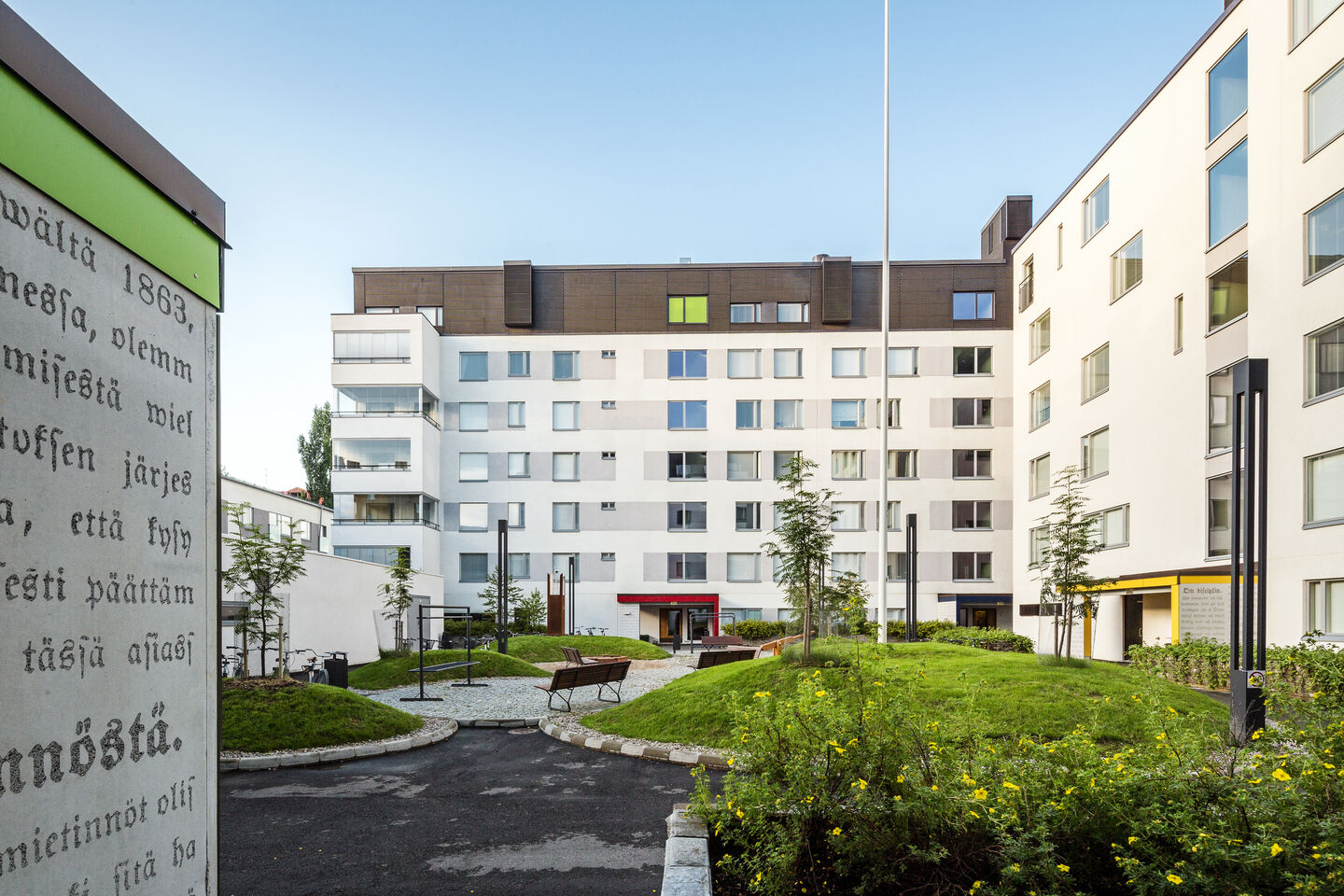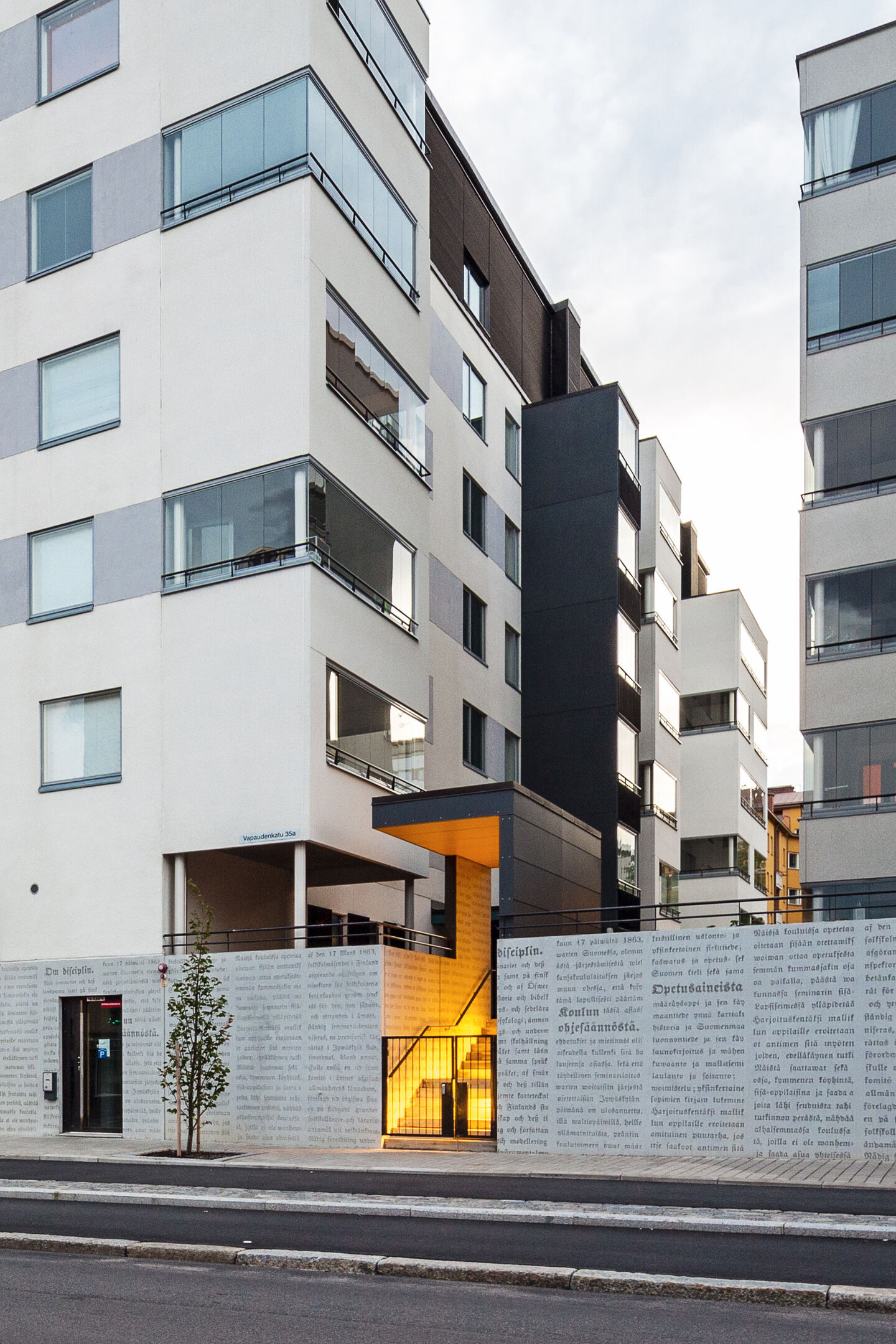 Small interventions reference the area's history - murals of text and portraits wrapped around the building at eye-level
Project Details
Location:

Jyväskylä, Finland

Year:

2015

Total area:

12,900 m²

Client:

YIT Construction

Programme:

Residential
01

Full Profile

Cygnaeus Park Housing is Lahdelma & Mahlamäki's winning proposal for a competition in Jyväskyla, the city of Alvar Aalto and a city of modern architecture. The local planning authorities ensure that the city continues keep this character. The urban structure is based on the grid system and the urban landscape represents various periods of 1900s and 2000s architecture.

The base structure of the building relies on this city plan, but aims to bring a modern take to the accepted architecture of the city. It does however look to the past and use small interventions across the site to reference its history. Various murals – some in text and some in images – are wrapped around the base floor of the building.

The facades of the buildings follow the logic of systematic floor plans. The balcony zone blends the living space and creates an "architectural rhythm" at the same time. The colour of the building is almost white, and in the view of the author, these features continue to be the architectural spirit and history of the city, including Aalto's works and the new architecture.

Particular attention has been paid to the illumination of facades, as well as to the lighting in general. The balconies on the façade are illuminated from below which not only softens the balcony light but also softly raises the facades of the building. The light system is automated so that the facade is illuminated at dusk. In this way, the balcony zone creates a calmly lit background for Cygnaeus Park.

The buildings are designed for different customer groups that appreciate city centre accommodation. Unobtrusive, generic floor plans provide an opportunity for your own, personalized lifestyle. The building caters for all types of residents, one such group being so-called 'third-age' customers. For this demographic the option of high-quality, non-subsidised rental housing is provided. Thus, the block is able to become versatile in its management mode.

02

Credits

Photos: Kuvatoimisto Kuvio Oy