Pyhätunturintie 2 Public Housing
Lahdelma & Mahlamäki architects designed a public housing block for the City of Helsinki, consisting of two separate buildings: a seven-storey apartment building and a more unusual, three-storey terraced house. The block has already garnered international attention and has been awarded for its distinctive architecture, insightful space planning and overall high quality.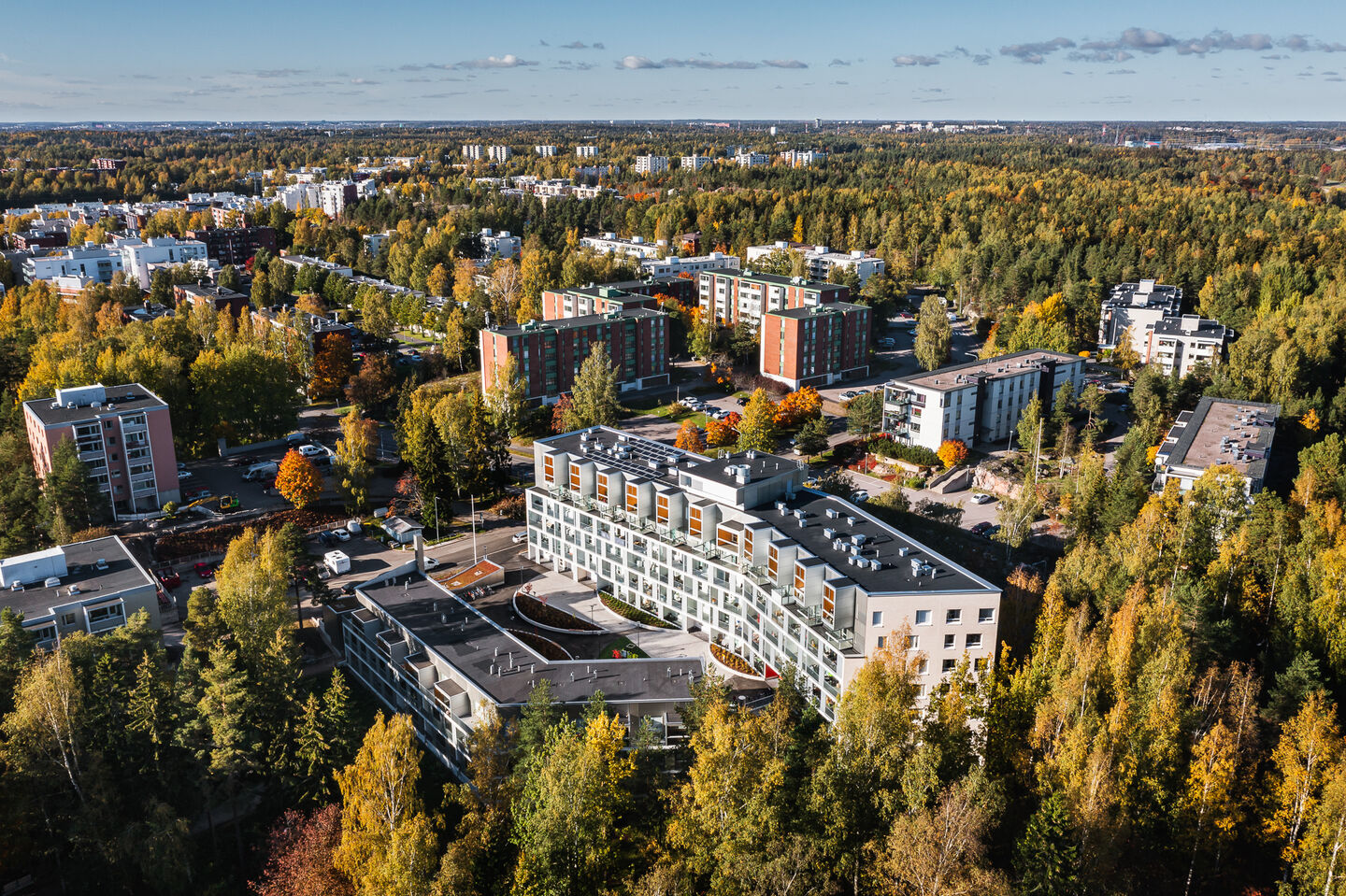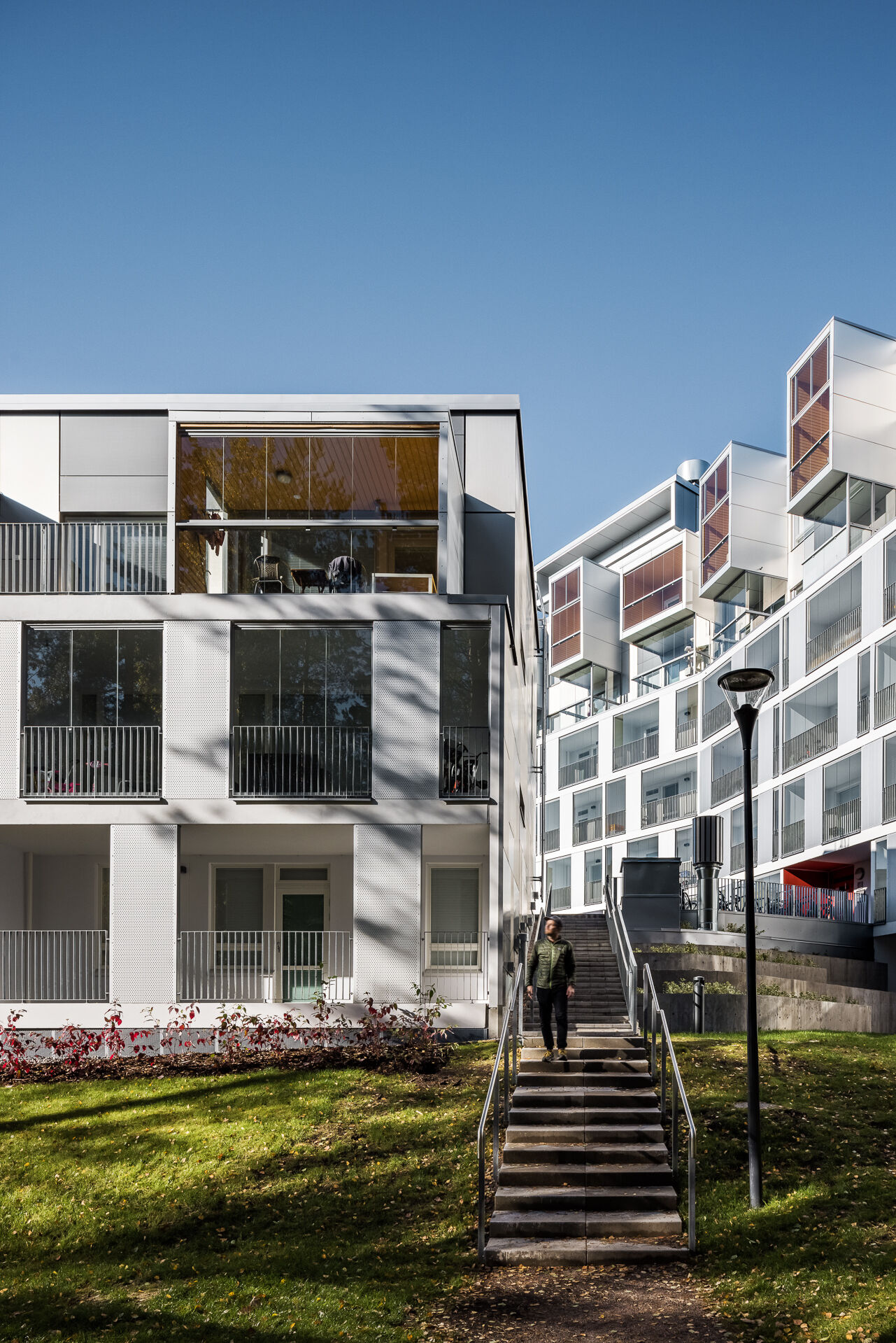 Pyhätunturintie 2 was designed to continue Finland's long tradition of public housing. Thanks to this, the Housing Finance and Development Centre of Finland awarded Pyhätunturintie 2 the Building of the Year Award 2022 for its high quality and life-cycle durability, as well as architecture, which has already been described as "iconic".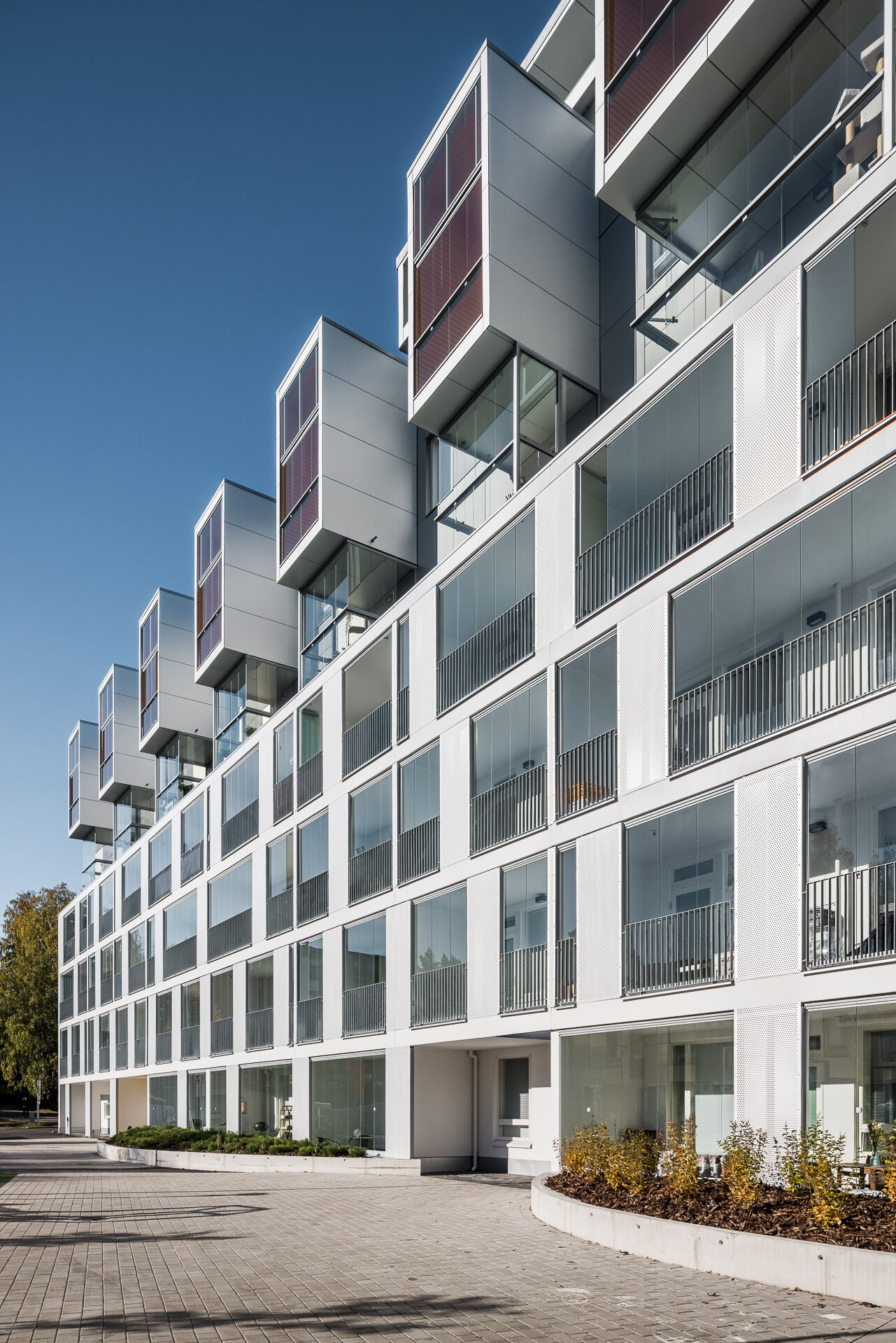 Special attention was paid to the floor plans of the apartments in order to meet the varying needs of families in different situations.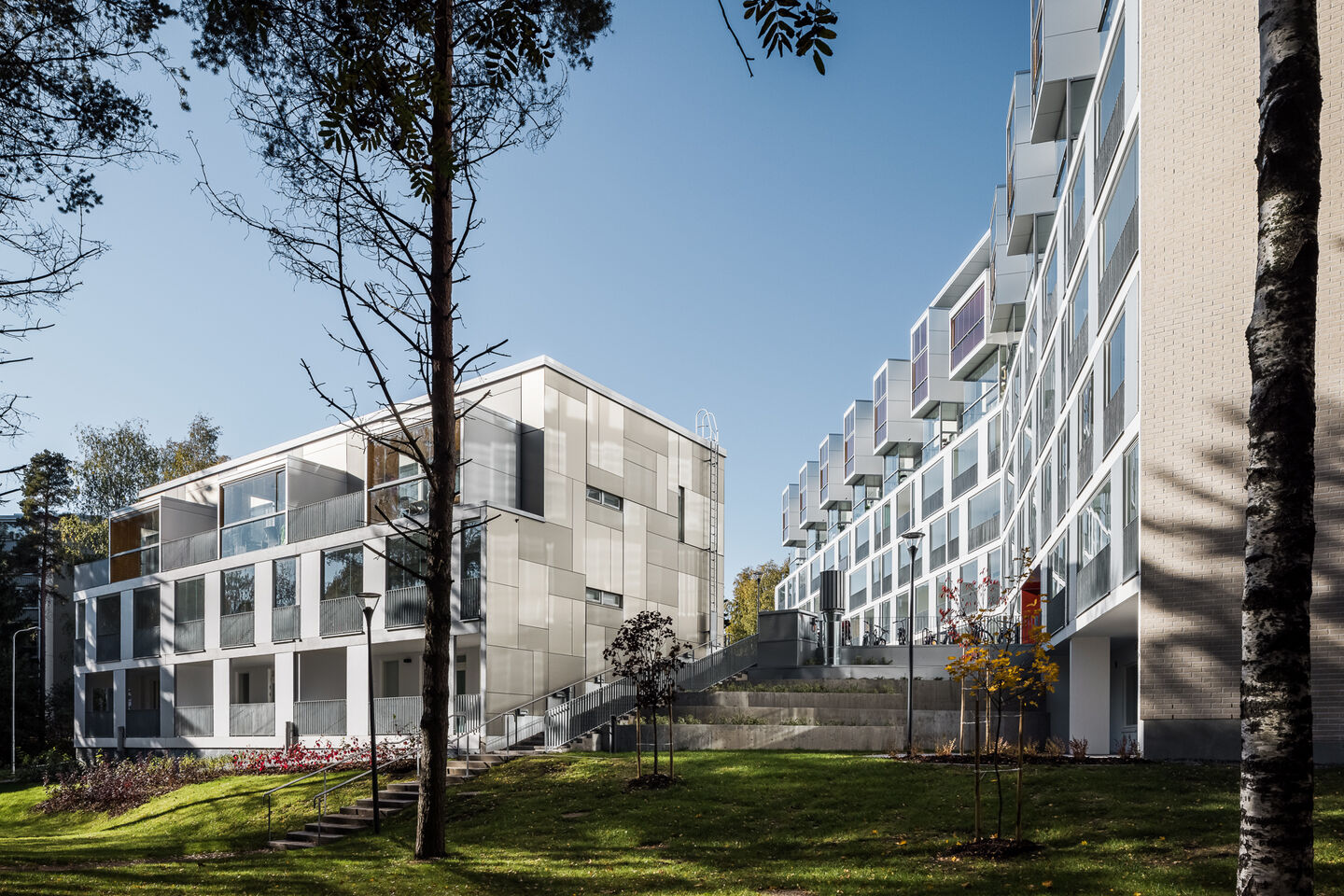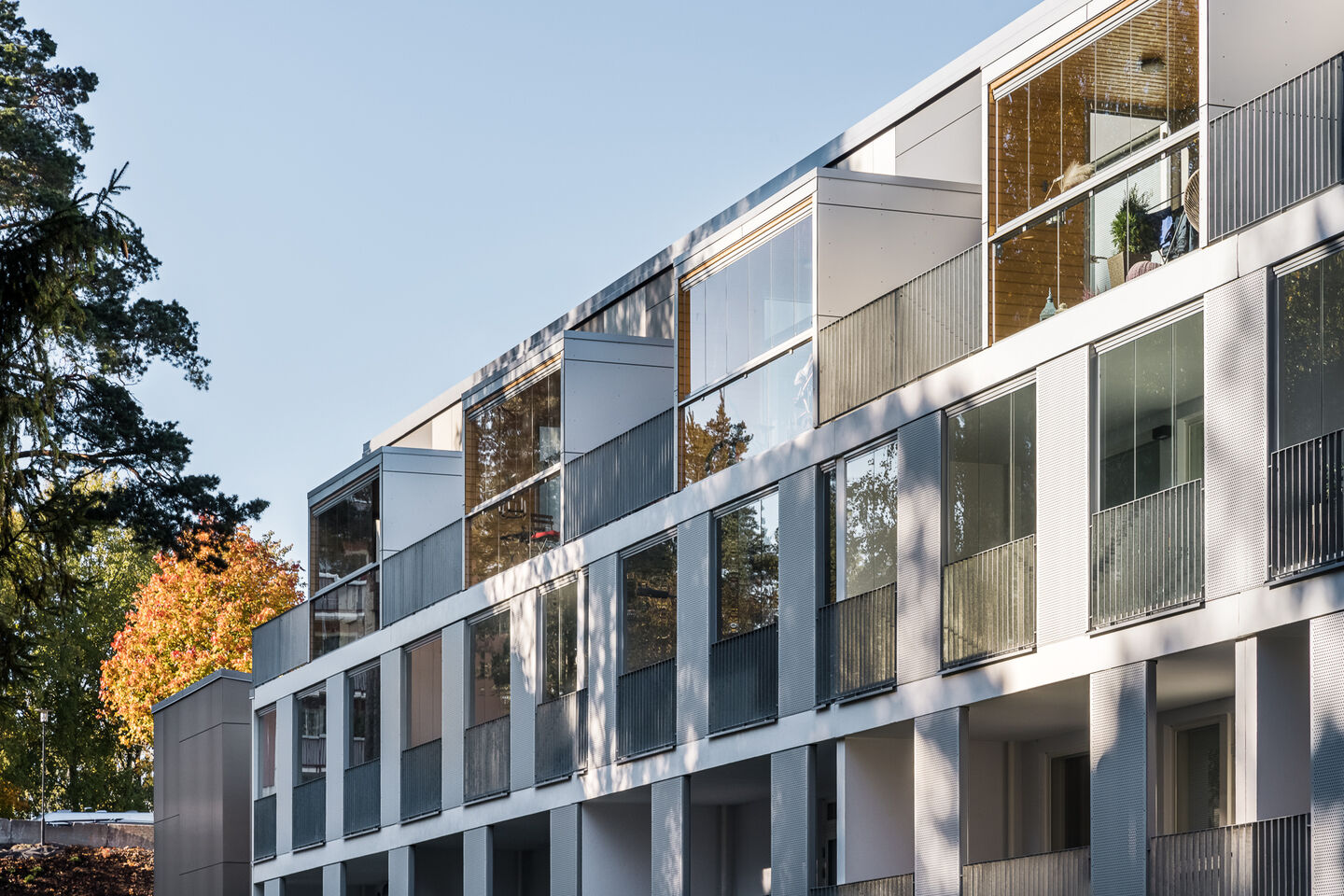 All apartments have glazed balconies and the apartments in the terraced house also have open balconies that open out across the entire width of the apartment to a sheltered park.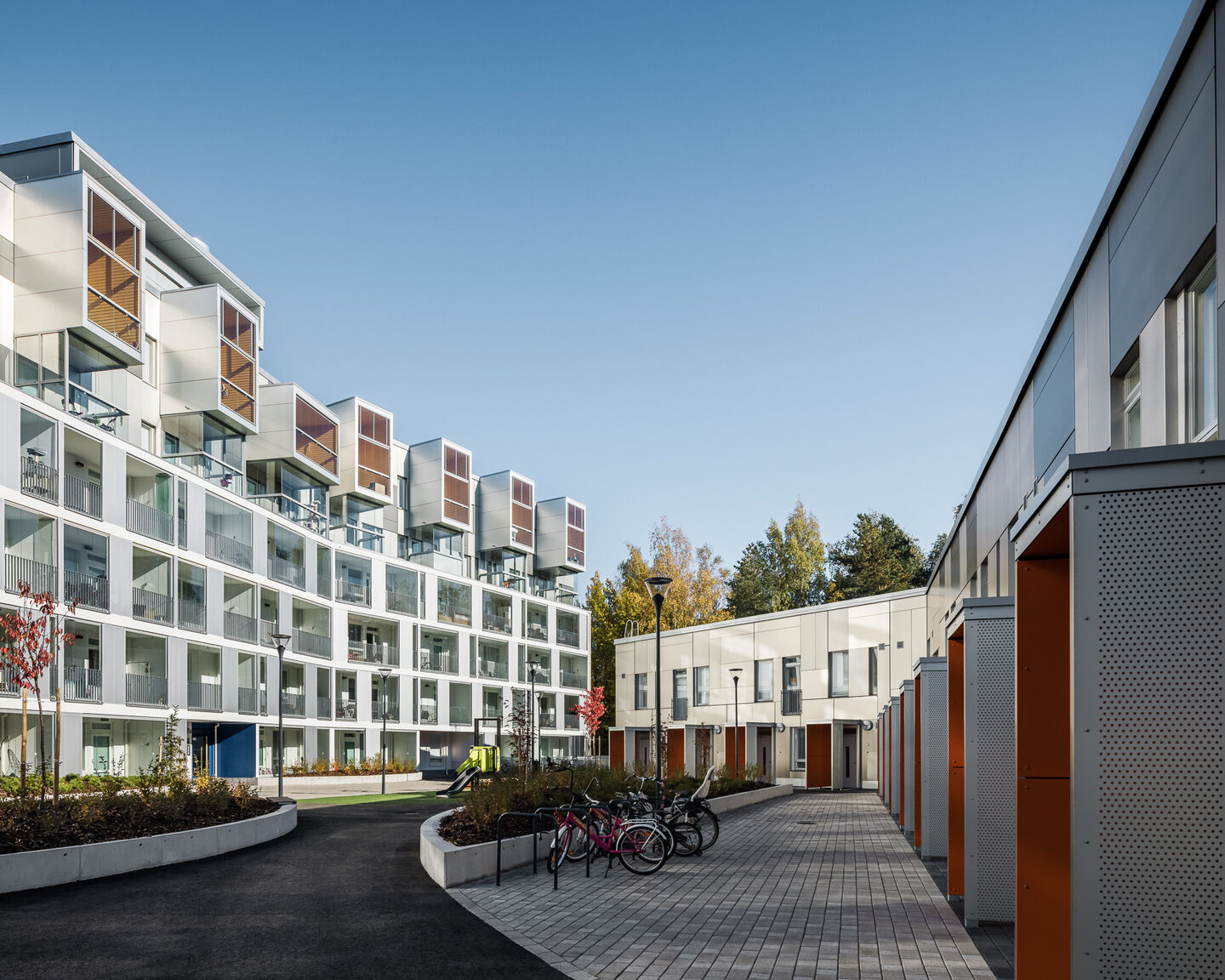 The folded shapes of the buildings create a peaceful courtyard with greenery, children's play equipment and space for socialising.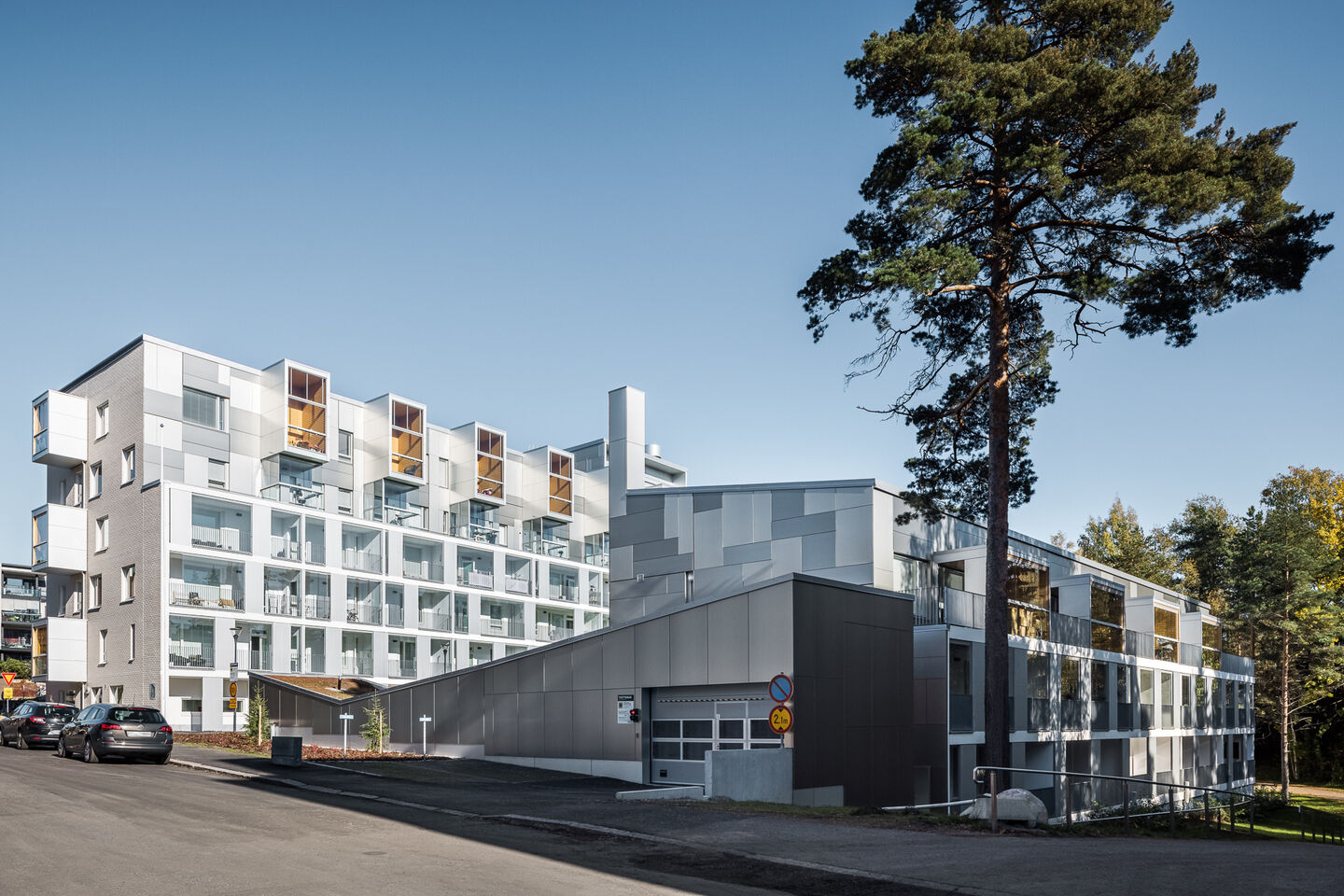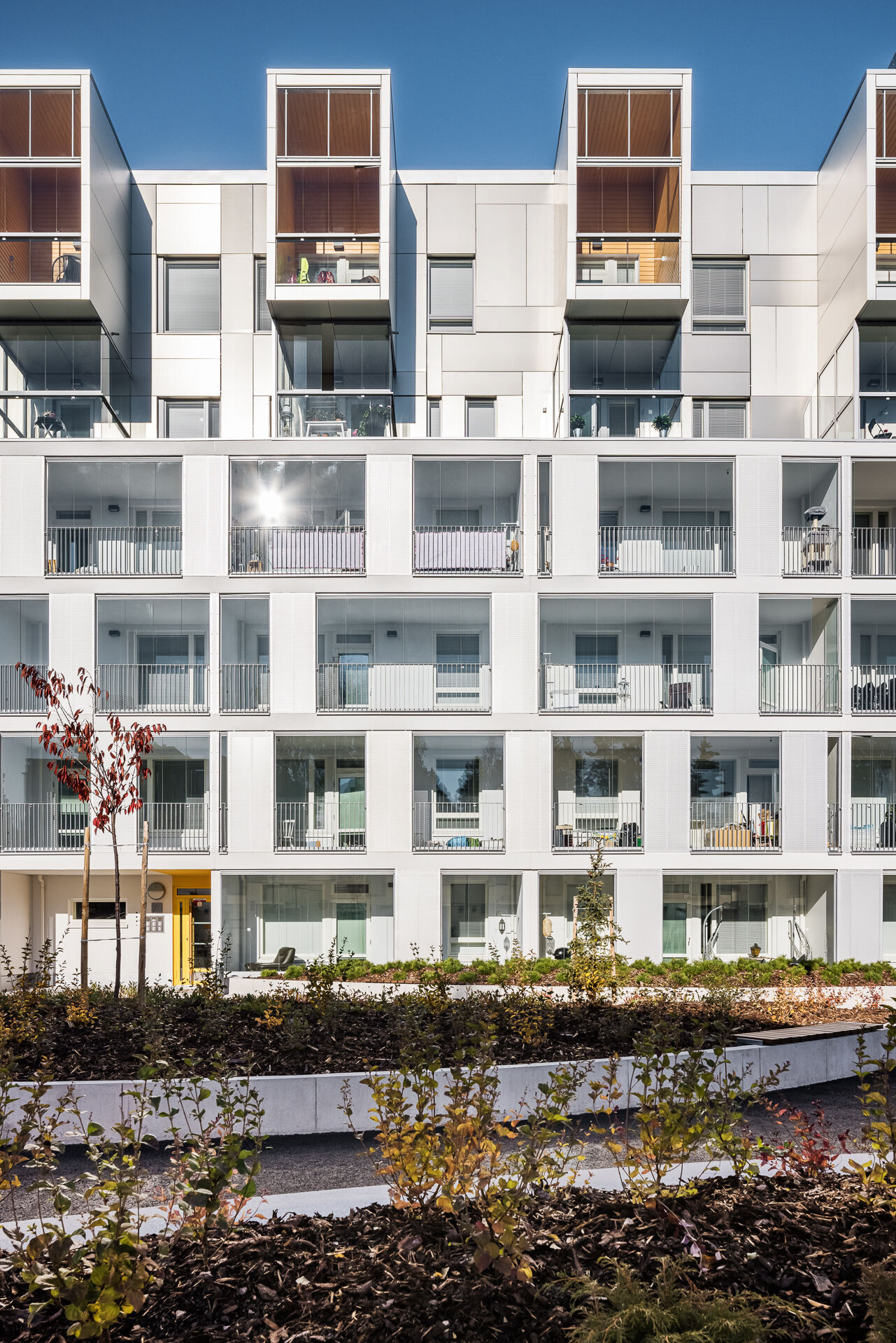 The exterior architecture was designed to use interesting architectural themes, particularly in the courtyard, for example in using different types of balconies.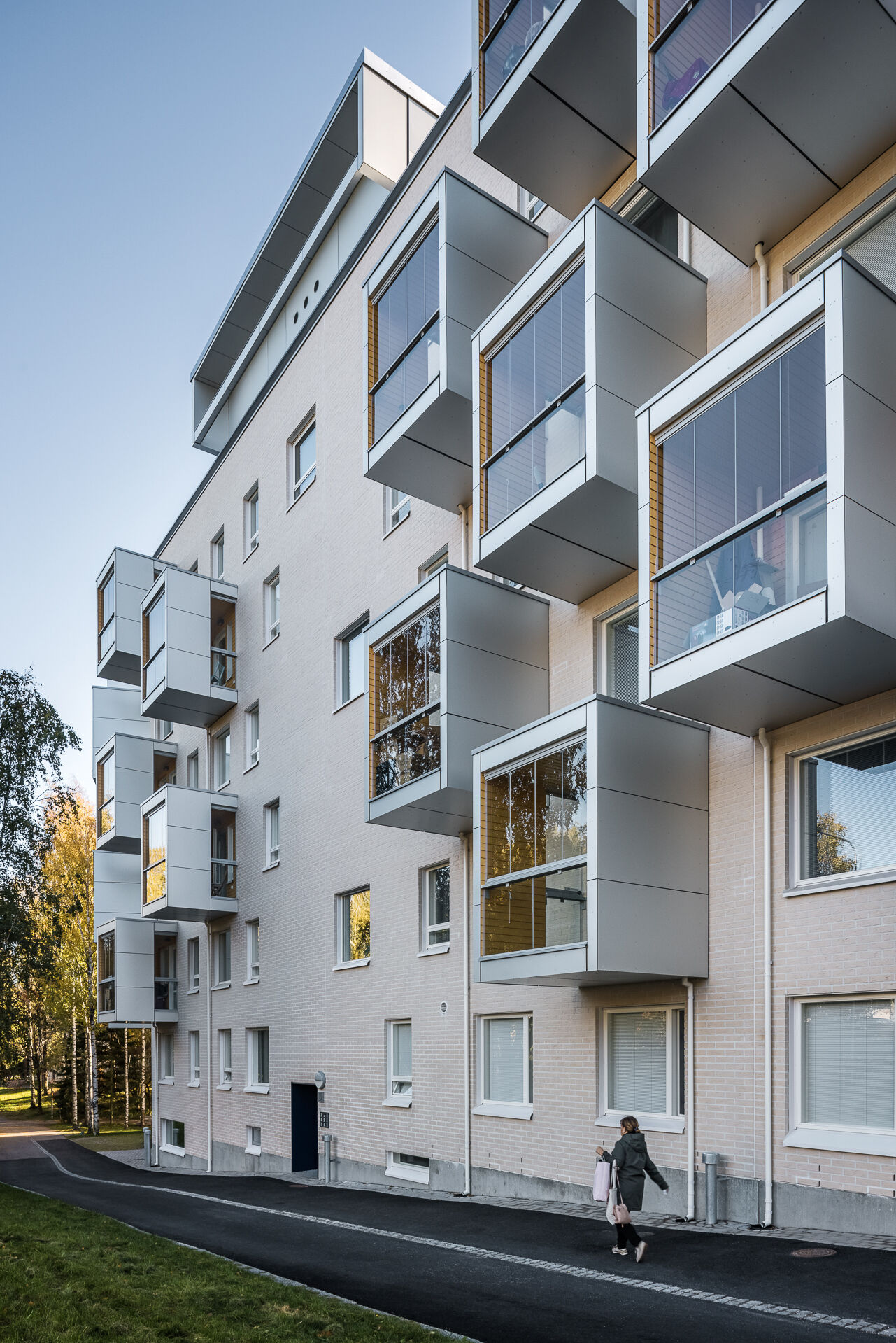 On the street side, the effect is more temperate and reminiscent of a brick wall.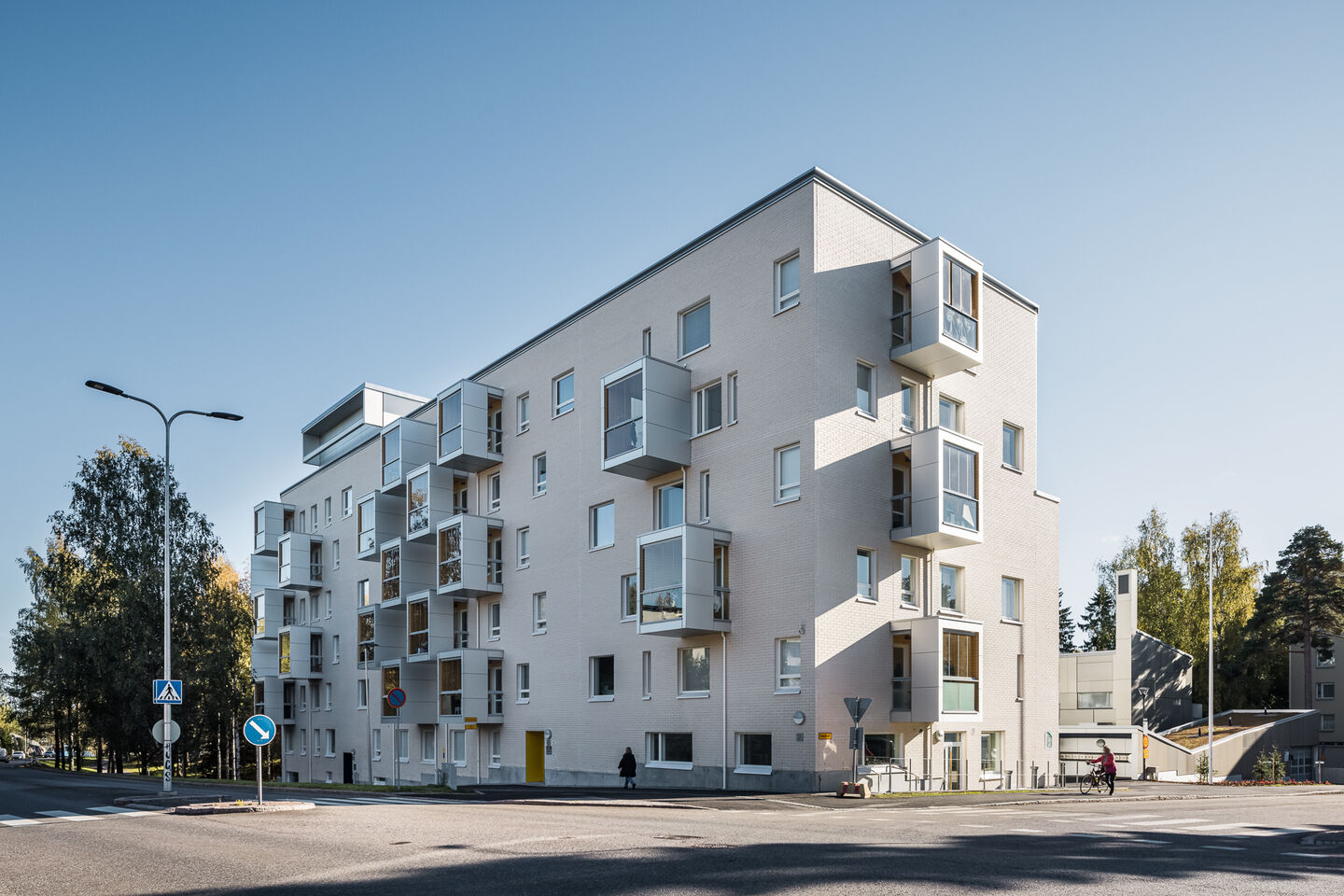 Project Details
Location:

Helsinki, Finland

Year:

2021

Total area:

9,100 m²

Client:

City of Helsinki, Housing Production Department

Programme:

107 apartments, common event facilities, two sauna departments, courtyard, parking hall
01

Full Profile

Pyhätunturintie 2 is a public housing block designed by Lahdelma & Mahlamäki architects for the City of Helsinki. It has a total of 107 apartments ranging from studio apartments to five-room apartments. The block consists of two separate buildings: a seven-storey apartment building and a more unusual, three-storey terraced house, and an underground parking hall.

The taller building shelters the courtyard from the adjacent street, while the lower building has panoramic views to the surrounding green spaces. The folded shapes of the buildings create a peaceful courtyard with greenery, children's play equipment and space for socialising.

Pyhätunturintie 2 was designed to continue Finland's long tradition of public housing. Thanks to this, the Housing Finance and Development Centre of Finland awarded Pyhätunturintie 2 the Building of the Year Award 2022 for its high quality and life-cycle durability, as well as architecture, which has already been described as "iconic".

Pyhätunturintie 2 is an infill project in an area that has been occupied by a variety of apartment buildings from different decades. Therefore, the design of the new complex aimed to enrich the aesthetic diversity of the area even further. High quality brick and aluminium, a combination that stands out from the other buildings in the area, were chosen as the façade materials, while the light colour scheme helps this building to blend in with its surroundings. In general, the exterior architecture was designed to use interesting architectural themes, particularly in the courtyard, for example in using different types of balconies. On the street side, the effect is more temperate and reminiscent of a brick wall.

Special attention was paid to the floor plans of the apartments in order to meet the varying needs of families in different situations. One example of the flexibility of the apartments is the alcoves, originally designed for sleeping, which during the coronavirus pandemic developed another potential use as a space for remote work. In the case of two-room apartments, alcoves allow them to be used as family apartments. All apartments have glazed balconies and the apartments in the terraced house also have open balconies that open out across the entire width of the apartment to a sheltered park.

02

Media Kit

Download our Media Kit for publication material on the project, including images, drawings and texts. Downloads are password protected.

To get the password, email info@lma.fi stating your name, organisation and reason for downloading our files.

Terms and conditions of use are included in the Media Kit.

03

Credits

Principal Designer: Rainer Mahlamäki

Building Designer: Maritta Kukkonen

Project Architects: Johannes Koskela (concept phase), Heidi Siitonen (construction phase)

Team members: Anne Harju, Leila Hyttinen, Eero Junkkari, Mikko Lahti, Kate Shorina, Marko Simsiö, Yehan Zhang,

Main contractor: Skanska Finland