Munich NS Documentation Centre
The National Socialism Documentation Centre in Munich has as its core aim to stand as 'a place of education and remembrance, addressing the crimes of the Nazi dictatorship and their origins, manifestations and consequences right up to the present day.' In 2008, a competition was launched by Munich city Council for the design of this centre in an area of the city with particular historical ties to the rise of the National Socialist party. The proposal by Lahdelma & Mahlamäki Architects takes the site and its history as a core design influence. The structure opens up to the Briennerstrasser, also orientating itself towards the Ehrentempel and giving views to the Karolinenplatz.
The exhibition rooms are arranged underground but are exposed to a diffused natural light indirectly, which comes from above. The spaces can however be enclosed, shut off from outside light, when required. Above this is a public foyer complete with cafeteria and bookshop. And, standing above all of this, are more public rooms which double up as lecture halls or exhibition spaces. The building is designed with the intention of optimising usability with the primary spaces being conceived to facilitate multiple uses and allow for flexibility. The central circulation allows this to happen, providing the possibility for the buildings multiple uses to happen around it. This way of layout out the building also manages to maximise the energy efficiency and minimise energy consumption.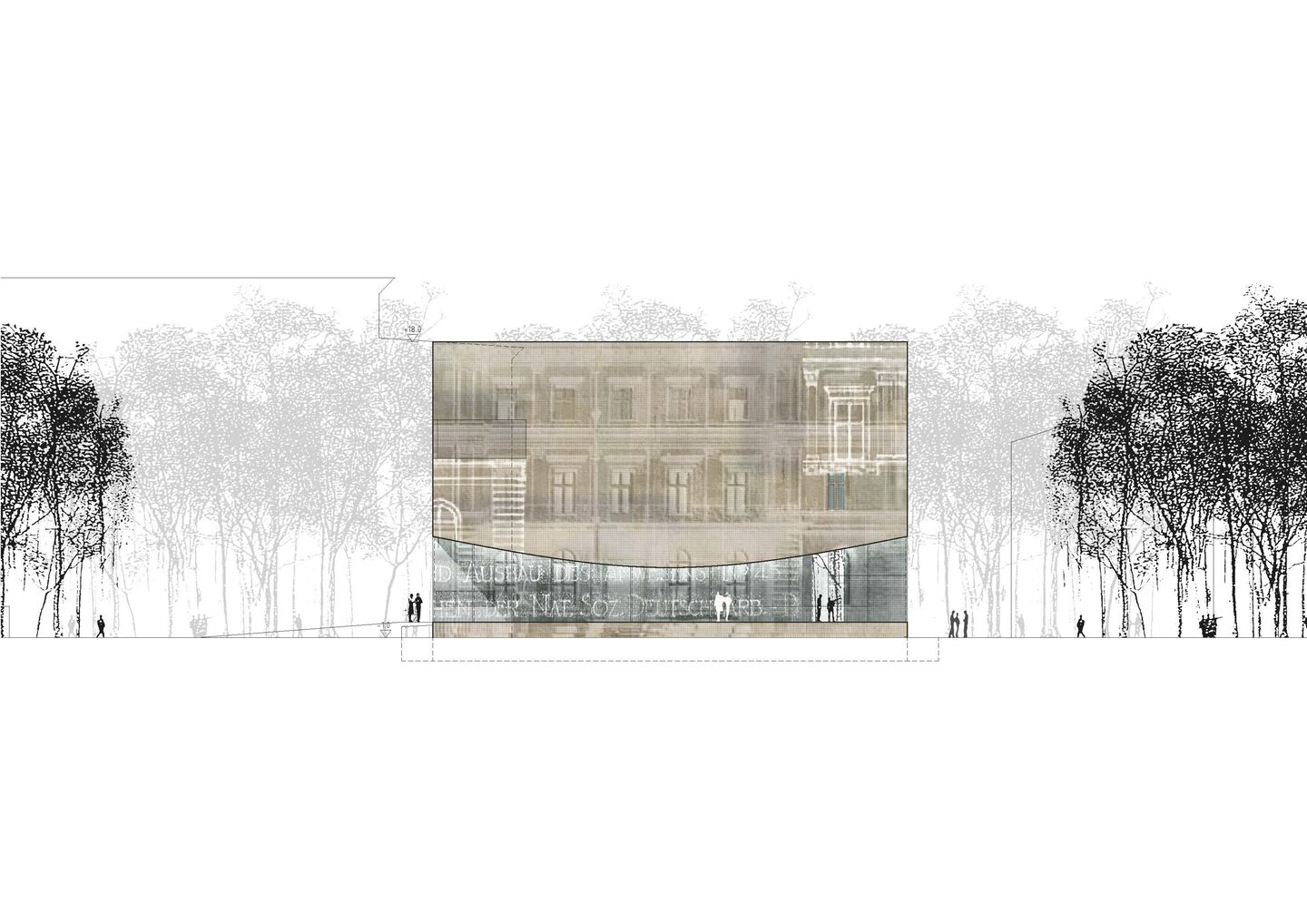 The building is enveloped in a micro-relief concrete surface, on which textures and patterns are applied. On the surface of this façade these patterns hint to the history of the Brown House; an imitation, distancing itself from the former building.
Project Details
Location:

Munich, Germany

Year:

2008

Programme:

Museum and exhibition facilities
01

Quick facts

The NS Documentation Centre has as its core aim to stand as 'a place of education and remembrance, addressing the crimes of the Nazi dictatorship
The exhibition rooms are arranged underground but are exposed, when required, to a diffused natural light indirectly
The building is designed with the intention of optimising usability with the primary spaces being conceived to facilitate multiple uses and allow for flexibility
Attention to detail and the manipulation of the materiality within and around the building provides tectonic qualities to its modest form

02

Full Profile

The National Socialism Documentation Centre in Munich has as its core aim to stand as 'a place of education and remembrance, addressing the crimes of the Nazi dictatorship and their origins, manifestations and consequences right up to the present day.' In 2008, a competition was launched by Munich city Council for the design of this centre in an area of the city with particular historical ties to the rise of the National Socialist party. The proposal by Lahdelma & Mahlamäki Architects takes the site and its history as a core design influence. The structure opens up to the Briennerstrasser, also orientating itself towards the Ehrentempel and giving views to the Karolinenplatz.

 

The exhibition rooms are arranged underground but are exposed to a diffused natural light indirectly, which comes from above. The spaces can however be enclosed, shut off from outside light, when required. Above this is a public foyer complete with cafeteria and bookshop. And, standing above all of this, are more public rooms which double up as lecture halls or exhibition spaces. The building is designed with the intention of optimising usability with the primary spaces being conceived to facilitate multiple uses and allow for flexibility. The central circulation allows this to happen, providing the possibility for the buildings multiple uses to happen around it. This way of layout out the building also manages to maximise the energy efficiency and minimise energy consumption.

 

Coming together, all these factors result in a modest rectilinear form. However, it is the attention to detail and the manipulation of the materiality within and around the building which provide the building's tectonic qualities – it looks to be a 'sculpture in the park'. The NS Documentation Centre carefully and tastefully treads a fine line, referencing the history of the Brown House and of the surrounding area, without taking over the form and symbolism of the Nazi era.

 

The building is enveloped in a micro-relief concrete surface, on which textures and patterns are applied. On the surface of this façade these patterns hint to the history of the Brown House; an imitation, distancing itself from the former building. The continuity of the building's materiality is kept by tweaking the properties of various building elements. The windows are partially screened and skylights are covered by perforated and patterned fibre cement slabs. The primary material of concrete is maintained throughout the building; however the application of it is approached in various ways. The exhibition spaces are a subtle, understated bleached concrete, whereas the entrance walls and floor adopt the façade texture of micro-relief concrete – the ceiling however is a translucent concrete with integrated optical fibres.

03

Credits

Ilmari Lahdelma and Rainer Mahlamäki with Eva Haggren, Jukka Savolainen and Katri Rönkä